Doctoral studies news and events
IPS doctoral project honored
-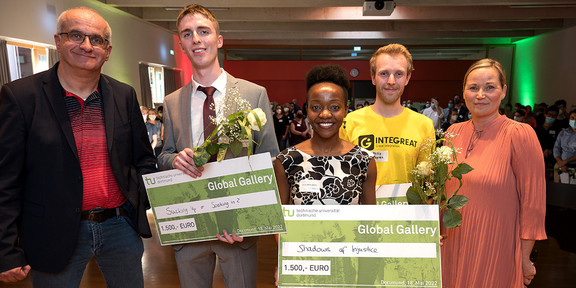 TU Dortmund's "Global Gallery" Award goes to Dorcas Nyamai
Dorcas Nthoki Nyamai's doctoral project entitled "Shadows of Injustice" was honored as one of three projects with international relevance at TU Dortmund University's second Global Gallery. Guests at the Global Gallery were able to choose their favorites from 29 initiatives presented.

Project description:
In Nairobi, 1.7 million people - roughly equivalent to the population of Hamburg - walk to work every day, risking their lives, as the road network is mainly designed for car traffic, although only eight percent of Nairobi's inhabitants:inside own a car. The goal of Dorcas Nthoki Nyamai's project is to improve the infrastructure for pedestrians and make it safer.

More information about the Global Gallery and further impressions of the event can be found here (German only).