The research project "Governance and Planning of Resilient Cities in East Africa" (GOPLAREA) focusses on strategies for more resilient urban development of East African Cities, support of technological advances for new solutions at the community and household level, as well as bringing together formal planning, management, informal practices and initiatives.
Against the background of unabated rapid urbanisation East African cities are facing a complex combination of environmental, economic, technical and social problems and threats. Some of these risks are further exacerbated by climate change, affecting in particular vulnerable populations in urban and peri-urban areas. Enhancing cities' resilience to these risks and stresses is the overall goal of GOPLAREA. The project has the dual aim of fostering and advancing research on resilient cities in East Africa and setting up and running a joint PhD programme at Ardhi University (Tanzania) and TU Dortmund University (Germany).
It consists of two modules - a research module and a postgraduate module. Both modules are inter-linked and seen as joint activities for academic capacity building. The postgraduate module is supported by the German Academic Exchange Service (DAAD) while the research module of the project is supported by the German Federal Ministry of Education and Research (BMBF).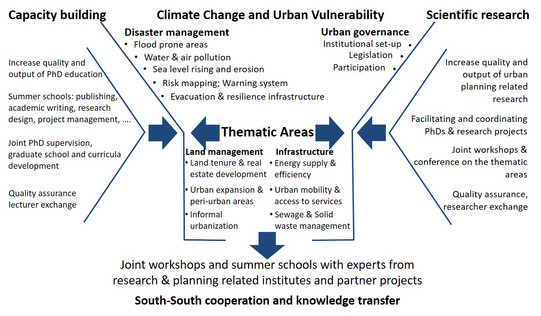 For "GOPLAREA", IPS collaborates with: