F02 Project "My Way or the Highway" in Namibia
-
in
Forschung
Studierende
Fachgebiet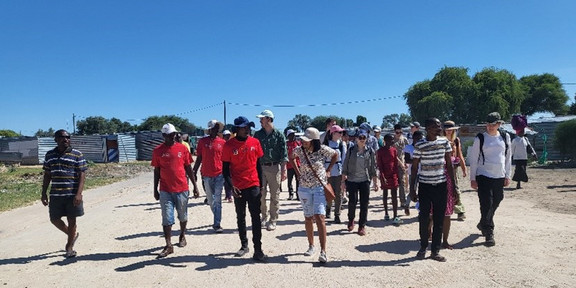 The F02 Project, "My Way or The Highway: Sustainable urban mobility in Namibia" undertook their excursion to Namibia between 28th February and 12th March 2023.
The study took place in collaboration with the GIZ Project on Inclusive and Sustainable Urban Development (ISUD) and focussed on active mobility within the selected research areas. The students assessed the mobility conditions of inhabitants in selected settlements which included Ombili and Bonya in Helao Nafidi, Havannah in Windhoek and Block H and its extensions in Rehoboth. At the end of the excursion, the students presented their initial findings at the Namibia University of Science and Technology (NUST). Their research was well received by the participants who expressed interest in collaboration for the development of an Action Plan for sustainable urban mobility within the settlements in Namibia.
The F02 Projekt will continue with data analysis and report writing in the Summer Semester.